*Twenty five Shades of Wine*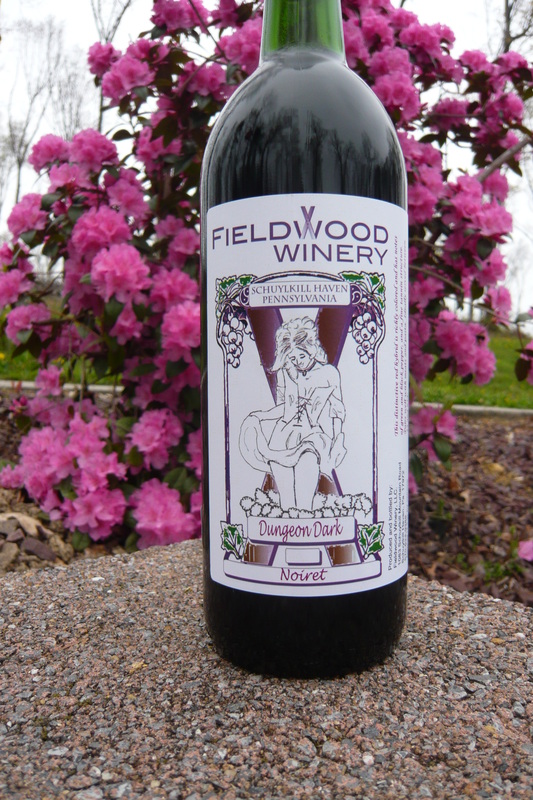 (Updated April 2017)

Fieldwood Winery is proud to present our wine list. Everything we make is handcrafted in small batches of less than 60 Gallons right next door on the Schuylkill Mountain. We use grapes and other fruit from around the world and from right here in Pennsylvania and produce everything in stainless steel barrels. We use the minimum amount of sulfites required to preserve our wines for a reasonable time. We believe this extra care gives our wines a clean, crisp taste that you will enjoy. Then we price our wines to be affordable and offer free wine tasting. Stop by, say hello and sample our unique "small batch wines".

Our Dryer Reds: ($12.00)
Complete Submission: (Cabernet Sauvignon) Probably the world's most popular red wine, ours is full bodied and dry. It ages well and has rich fruit characteristics. Pairs well with red meat, cheese and chocolate. Ideally served between 55 and 65F. (Available)

Ruby Bottom: (Merlot) A soft, medium-bodied red wine with juicy fruit flavors. Pairs well with poultry, red meat, pork, pastas, salads - Merlot can handle them all well. Ideally served at 55-65F. (Available)

Mistress Manacles: (Malbec) A Medium bodied dry wine which is dark and fruity, our Malbec pairs well with spicy dishes and anything off the grill. Best served between 55 and 65F. (Available)

Yes Sir-Ahh: (Petite Sirah) Powerful yet refined. Dry with a little bite. Pairs well with anything off your grill from burgers to chicken and Mexican cuisine. Ideal temperature 55 to 65F. (Available)

Dungeon Dark: (Noiret) This is our Noiret, a dry yet very smooth red made with grapes from the New York Finger Lakes. Few have had the experience of tasting this relatively unknown hybrid but those who have are raving about it. This distinctive red French hybrid is richly colored with notes of green and black pepper and a fine tannin structure. Goes great with meats and pasta. (Available)

Collar's Key: (Chianti) We used all Italian Grapes to produce this spicy, dry, medium bodied wine with a unique fruity tartness. Pairs perfectly with Italian food. (Available))

Playful Pet: (Pinot Noir) Our Pinot Noir combines rich fruit flavors, spicy undertones and subtle tannins for a very easy to drink red. Enjoy it with a wide variety of foods from cheese to fowl to beef. (Available)

Cabaret Spank: (Cabernet Franc) Our Cab Franc is just a bit lighter than a Cab Sauvignon but with all the flavor and intensity. Pairs well with red meats, pork or poultry. (Temporarily sold out)

Our Sweeter Reds: ($12.00)
Sweet Sin: (Red Zinfandel) We left this one a little sweet. Our Zinfandel has a spicy, peppery taste with a hint of fruity flavor. It goes well with "typical American" food - pizza, burgers, and steaks. It's hearty enough to match up with thick red sauces. (Available)

Sweet Surrender: (Fredonia) This unique, all American favorite is one of our most popular wines. It is nice and sweet with a tart finish and would go great with your next Bar-B-Q. (Available)

Twisted Cord: (Concord) This is one of the region's most popular wines. We make ours for people who like to taste the grape in their wine. Sweet and delicious, it pairs well with fruits, nuts, desserts and many red meats. (Just in!)

Our Dryer Whites: ($12.00)
Naked Nymph: (Chardonnay) Our naked Chardonnay is aged in Stainless Steel instead of oak for a clean, fruity and somewhat buttery flavor. It pairs well with poultry dishes, pork and seafood. Tastes best chilled to about 50 F. (Available)

After Glow: (Pinot Grigio) Crisp, Dry and Refreshing! Our medium body wine pairs well with lighter fare from shellfish to chicken. (Available)

Sassy Wench: (Sauvignon Blanc) Our delicious white is medium bodied, crisp and refreshing with herbal notes. Goes fine with a wide variety of foods. Try it with appetizers or sushi. (Available)

Kinky Cougar: (Cayuga) This is our Goldilocks wine, Mrs. Robinson's favorite and a real summertime pleaser! It is clear and light. Not too sweet, not too dry with just a hint of citrus. Serve chilled (on the back porch) to about 50F. (Available)

Velvet Touch: (Viognier) This is a unique, full bodied, rich and aromatic white. It has strong floral and fruit notes including apricot and lavender. While it may even be to aromatic for some, this vintage has a loyal following. Try it with salmon or mild seafood. (Available)

Our Sweeter Whites (and Pinks): ($12.00)
Rising Passion: (Johannesburg Riesling) Sweeter than our Chardonnay but dryer than our Moscato, our Riesling has a nice fruity finish. Pairs well with cheeses, snacks and Asian cuisine.(Available)

Muskrat Love: (Moscato) This one is for my daughter and everyone young or young at heart. A very popular sweet wine with a fruity, grapy flavor. Delicious with desserts, berries and salads. Serve chilled to about 50F. (Available)

Zynphomaniac: (White Zinfandel) This very popular pink wine is sweet, soft and easy (just like us). Enjoy this refreshing wine anywhere, anytime.(Available)

Viagara: (Niagara) This very popular New York white is sweet and delicious. Serve chilled to about 55 degrees. It will pair well with desserts and cheeses. Enjoy! (Just in!)

Other Wines ($14.00)
Berry Twisted: (Our new raspberry/blackberry blend) By popular demand, we left this one sweet. Made with 100% raspberries and blackberries. No grapes, no apples, no fillers. Just about one pound of fresh berries in every bottle. (Temporarily sold out)

Rosey Cheeks: (Raspberry Wine) Our medium dry Raspberry Wine! Not too sweet, not too dry and loaded with about a pound of 100% fresh raspberries in every bottle. If you like raspberries, you're going to love this one! (Available)

Naughty Nectar: (Honey, Spice Zinfandel) This is our honey wine made with 100% natural honey from Dave's Apiaries next door. It is spiced with cinnamon. Enjoy cold or pour some in a crock pot for a delicious Vin Chaud.(Available)

Plum Pleasure: (Sweet Plum Wine) Sweet and delicious, we put about a pound of plums in every bottle. (Available)

Hide The Banana: (Sweet Banana Wine) Go bananas for this one! Like a banana split for adults. If you like bananas, you're gonna love Hide The Banana! (Available)



Feel free to check our Facebook page or give us a call to find out what we will be serving.